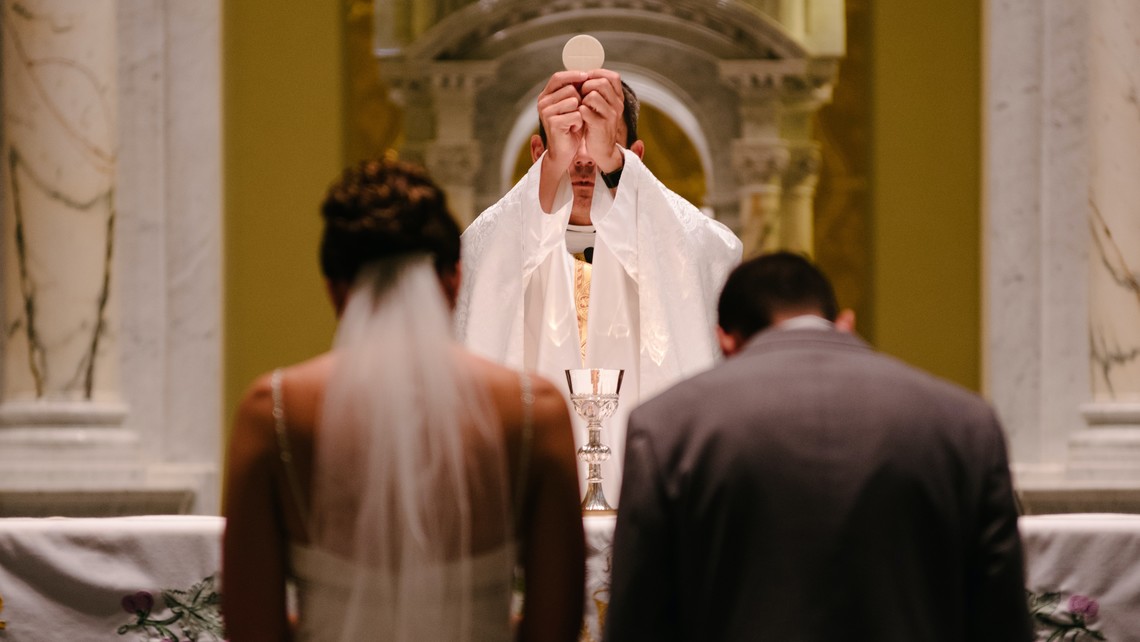 Many years ago, a high school youth group had asked my wife to talk about her experiences on relationships, dating, what the Church taught about these things and ultimately what led her to marry her husband, me. When she asked me if I wanted to come along with our three young children at the time, I said sure, more out of selfish curiosity of what and how she would describe our relationship to a group of teenagers.
As she began to talk about relationships and the Church's teaching on developing a healthy relationship with Christ first, the kids were naturally very interested in hearing about our relationship, especially how a Catholic could or should develop. The Pastor who had invited my wife was praying for this type of interest from his youth. Half way through the presentation a young man asked me a very important question: What was your first thought when you saw her down the aisle? As the room fell silent, I looked at my wife and then looked at the kids and told him the following:
"You will now be responsible for this soul. My beautiful daughter will now be entrusted to your loving care. You must spiritually and physically protect her and nourish her. You must stand by her and not lead her to sin. You have been entrusted with a gift created in my image and likeness."  
As I shared these words with the entire group there was a collective; "Oh no you did not say that." I explained to the young man that the moment I saw my future bride, nervously smiling, with her father next to her side nervously telling her, "You can still back out" God literally spoke to me and helped me arrive to an immediate realization that this beautiful life in front of me is my ultimately responsibility. My intimate relationship with Christ is now responsible for the spiritual well-being of another soul other than my own. No matter the cost, I must lead my bride away from sin, honor her, respect her, serve her without hesitation and above all lead her to Heaven.   
I told the young man that the reality of a marriage covenant is that I make a vow before God to honor and protect my bride and love her without reproach toward our ultimate end which is eternal joy with God. The gospel of St. Matthew provides with a powerful example where St. Joseph receives his instructions from God to guard and protect Mary the Mother of God by not divorcing her[1] and leading her away from danger toward the land of Egypt.[2]  
A husbands vow
As we continued to speak to the youth group and describe how she made her way down the aisle, all I could think of was the journey we were about to begin in the name of Jesus Christ, I bluntly told myself; "don't screw this up."
St. John Paul II reminds us:
love is always a mutual relationship between persons. . . Love between man and woman is one particular form of love, in which elements common to all of its form are embodied in a certain way.[3]
Fr. Paul Quay in his masterpiece, the Christian Meaning of Human Sexuality comments that the man who truly loves his wife satisfies her greatest need as a woman, her need for the security of a steadfast love and faithful protection. The vocation to marriage is written in the very nature of man and woman as they came from the hand of the Creator.[4] The Catechism of the Catholic Church reminds us that:
The consent by which the spouses mutually give and receive one another is sealed by God himself. From their covenant arises an institution, confirmed by the divine law, . . . even in the eyes of society. The covenant between the spouses is integrated into God's covenant with man: Authentic married love is caught up into divine love.[5]
Through the intimate embrace of the Father in the sacrament of Holy Matrimony we encounter the grace that fulfills the marriage bond[6] and strengthens the vow between man and woman to love and serve one another in Jesus' name.[7]  Again the Catechism of the Catholic Church reminds us that:
Christ is the source of this grace. Just as of old God encountered his people with a covenant of love and fidelity, so our Savior, the spouse of the Church, now encounters Christian spouses through the sacrament of Matrimony. Christ dwells with them, gives them the strength to take up their crosses and so follow him, to rise again after they have fallen, to forgive one another, to bear one another's burdens, to be subject to one another out of reverence for Christ, and to love one another with supernatural, tender, and fruitful love.[8]
Tertullian describes a foretaste of the wedding as pure happiness because it demonstrates a marriage bond between the couple and the Church that is offered, sealed by a blessing, announced by the angels and ratified by the Father. How wonderful the bond between two believers, now one in hope, one in desire, one in discipline, one in the same service! They are both children of one Father and servants of the same Master, undivided in spirit and flesh, truly two in one flesh. Where the flesh is one, one also is the spirit.[9] Right as I was about to receive my future bride from the hand of my future father-in-law, I heard one last voice; "Remember, you made a vow to guard her soul."
The deepest desire of the human heart is to see another and be seen by that other's loving look.
 St. Augustine, Sermon 69
---